EVENT FLOOR PLANS
Create scaled floor & table plans in seconds.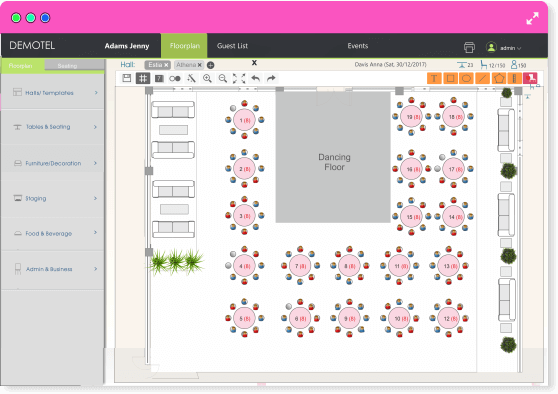 Perfectly Scaled Floor Plans
Still wondering how many tables can fit in a room? With a perfectly scaled plan you can find out exactly.
Choose The Right Chairs, Furniture & Objects
Select the right chairs, furniture & objects. Add table numbers, names, and notes. Change colors, fonts, measure distances and more.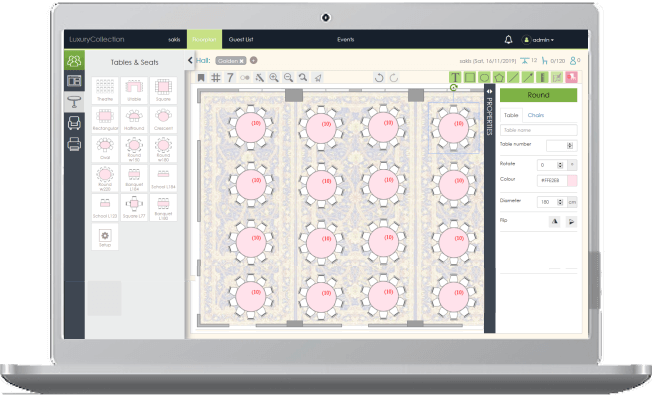 PDF EXPORT
Export Event Floor Plans & Table Plans in PDF With One Click & Eight Printout Options.
REAL TIME SHARING
Your floor & table plans are shared with your clients & team in real time. No more emails, chaos, and confusion.
EQUIPMENT LIST
Export Event Floor Plans & Table Plans in PDF With One Click & Eight Printout Options.
Use Templates For Lightning Fast Setups
Save your setups as templates and use them as is. Or as a stepping stone to create a new plan.
Include Different Rooms, Layouts & Setups
Will you be using more than one function room for an event? Or need different setups of the same room? No worries. You can do either or both.
Managing Guest Lists & Seating Charts is Fun
Do more with the Seating Chart addon
Click 'N Seat Guests To Tables
Seating charts are fun! Clients click 'n seat their guests to tables and seating charts are produced automatically. And always correct!
Manage Guest Lists & Details
Track RSVPs, VIPs & add guest notes. Sort 'n seat guests faster by creating different groups. Include guest corporate details and seat guests as per their company, group, or job title. Track guest totals, seated/unseated guests and more. Guest list changes reflect on the seating chart automatically.
GDPR compliance
All data are protected by user-defined passwords and hosted in tier-3 data centers certified by ISO 227001:2013. Sensitive data including guest mobile numbers & emails are automatically deleted 15 days after the events.
Click Below For More Event Solutions
& Best Value Combos