Post-Covid Era: A Game-Changing Event Software
Event Floor Plans (Covid-safe) • Seating • SMS Welcome & Seating (Covid-safe) • Check-in (Covid-tame) • Management Platform
EVENTRECEPTION SOFTWARE
Couldn't be easier
Create scaled, Covid-safe event floor plans with physical distancing and safe spaces in seconds. Click 'n seat attendees to tables or chairs to prepare guest table-lists and seating charts. Attendees receive a welcoming SMS with their seating details & navigation map to the venue. Check them in with one tap and track guest arrivals, last-minute changes, & free seats among other detailed reports. Manage event requests, hall availability, notes, communication and more.
Select all our event software solutions or just the ones you need. EventReception software has been especially designed for hotels, event venues, caterers & event professionals.
I WANT A QUICK DEMO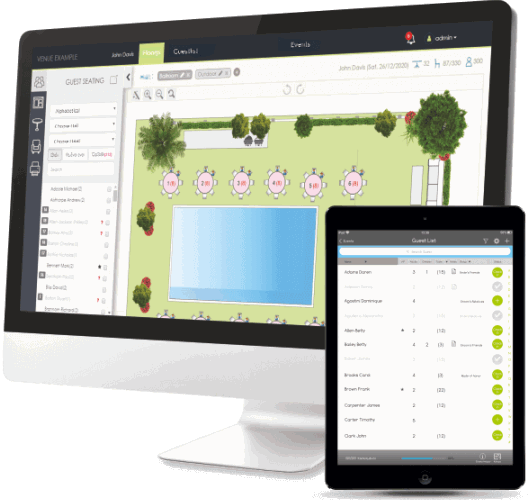 "EventReception made our life easier and our business time more productive and efficient. Οur time to prepare an event plan has been reduced by at least half an hour compared to the previous event software we were using. The professional EventReception Team has earned our complete trust."
ARIS LEFAS
Lampsa Hotels
"Reliable company, specialized staff, excellent support. A software solution that is important for our work and very easy to use."
EVGENIA LIMANTZAKI
Hatzi Mansion, Event Venue
"EventReception has proved to be a useful tool for event professionals as well as a fun way for our clients to prepare their seating charts and organise their guest details. Our expectations have been met completely."
KATERINA PSIMA
InterCatering, Event Caterer
EVENTRECEPTION SOFTWARE
Check our event software solutions:
EVENTRECEPTION SOFTWARE
Interested in our event solutions?
For a year, a month, or an event or two?
Find out more about Eventreception's
event software solutions