e-GuestList app
Easy, Fast & Reliable Check-Ins
New! Customize the app to fit your check-in needs.
Check-in event attendees, hotel guests (for breakfast & boards), students, ...even equipment!
6x - 20x faster check-ins
Put an end to guest waiting lines with unmatched reliability.
Know every little detail
Great check-in reports.
Couldn't be easier
Use the app in 120 seconds or less.
WITH OR WITHOUT INTERNET
Unreliable Wi-Fi? No problem! e-GuestList adjusts automatically according to Wi-Fi availability.

IPADS & ANDROID TABLETS
Developed with native iOS and Android code and optimized for unmatched speed & reliability.
AUTO - SYNC
Data are updated in real-time among all tablets & the web.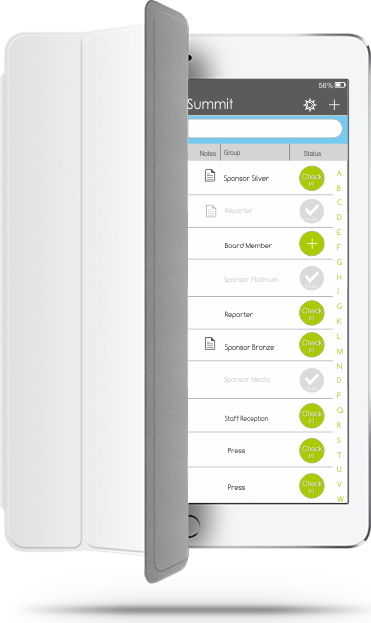 EASY UPLOAD FROM EXCEL
Upload your lists from excel in seconds. Make changes, delete duplicates, or replace your whole list.
ASSIGNED SEATING & TABLE AVAILABILITY
Are guests seated at tables? Or you don't need seating? You'll love this app either way.
SAFE & SECURE
Data are encrypted by SSL and secured in a 3-tier data center certified by ISO 27001: 2013.
Customize the app to fit your check-in needs
Change the app names
For example, change the "Last Name" title to "First Name" and write it in Japanese "ファーストネーム".
Change the "Tables" column to "Rooms".
Change the "Persons" column to a persons icon
Check-In: &nbspGuests &nbspHotel Clients (Breakfasts & Boards) &nbspNight Club & Restaurant Reservations &nbspStudents &nbspPlane Passengers & more
E-GUESTLIST CHECK IN APP
Basic iOS & Android Tablet Features
Powerful search
Find guests using the alphabetical index or search field
CHECK-IN WITH 1 TOUCH
One-tap check-ins


SHORTER LIST AFTER CHECK-IN
Check-ins go to the end of the list (optional switch)
ADD NEW GUESTS
Add new guests with one tap
GUEST NOTES
Guest notes pop up automatically after check-in (optional switch)
CHECK-IN PROGRESS
How many guests have checked-in, how many are still expected
EDIT GUEST DATA
Change guest data with one tap
TABLE STATUS
Per table analysis of guests and guest arrival ticks and free seats per table report.
SETTINGS
Select the columns you want to show and the app's functionality
ONLINE REPORTS
You now know exactly what's going on with your guests. Web reports are updated automatically and include:
Initially Expected Number of Guests
Actual (Checked-in) Guests
Guest Arrival Times
Non-show Guests
Walk-in Guests
Guests with Last-minute changes
Guest Analysis In Up To Three Age Groups (Adults, Children, Infants)
Analysis in Three Guest Categories (Bride, Groom,Others)
Export Report To Excel
E-GUESTLIST EVENT CHECK-IN APP
Purchase an event or get an unlimited event package per month or year,
Click 'n seat guests to tables or chairs.
It's easy & fun!